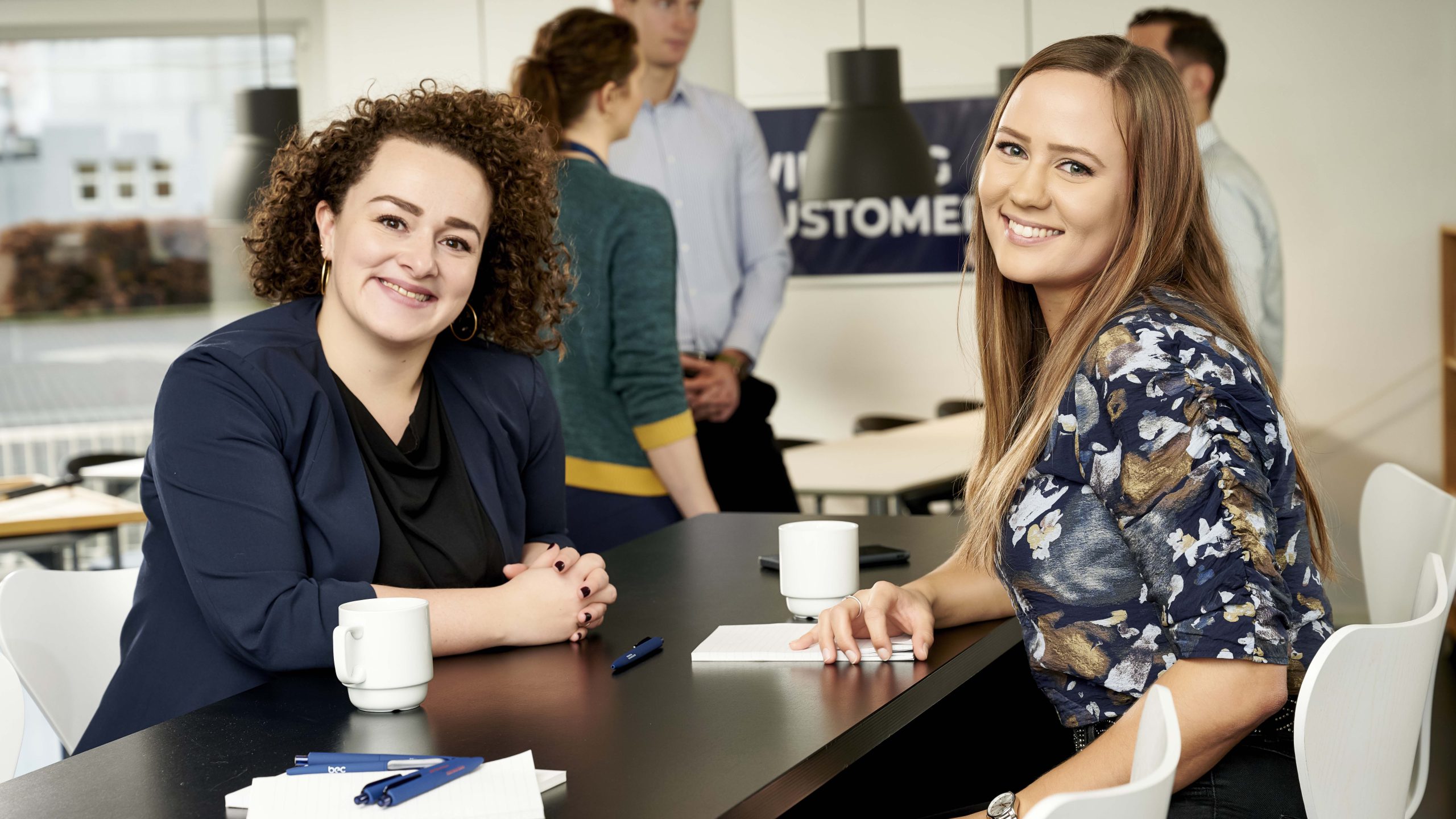 Working life at BEC
BEC Financial Technologies has more than 50 years of experience building strong tech solutions for the Danish financial sector. We are a community of tech-loving people who cherish decency and mutual respect, working in a highly flexible environment with plenty of opportunities to grow.
BEC is an international fintech company that creates vital solutions to the financial infrastructure of Denmark. We ensure stable IT operations for many Danish banks and several key players in the financial sector.  We make it possible to invest online, take out loans and transfer money. In other words, everything it takes to run a bank.
We are more than 1,700 BEC employees, working closely together across our locations in Roskilde and Herning in Denmark, and Warsaw and Lublin in Poland. We employ people who aspire to develop new skills and love to acquire new knowledge. To us, curiosity is just as important as work experience, and we pay as much attention to attitude as the resume. At BEC, we are pleased that we have a more balanced gender distribution than many other IT companies.
Building on our cooperative ownership, we strive for an efficient, collaborative culture where everybody, regardless of title, is expected to generously contribute their skills and ideas, learn from each other, and grow together.
We are tech-savvy and love data.
We develop fintech solutions and advise our customers based on deep insight into both the IT and financial sector – making sure we win our customers every day.
We cherish decency and mutual respect towards each other, our customers, and the outside world.
We make decisions and take responsibility as close to the tasks and customers as possible.
We deliver solid and secure IT operations with extremely high accessibility.
On our customer pages, you can read more about development together with our customers and our strong and secure IT platform. You can also read more about BEC and our vision as a company.
We believe in you
BEC's management philosophy is based on the premise that BEC performs best when our people thrive. Job satisfaction, curiosity, and productivity go together.
We recruit people with a high level of professionalism, IT knowledge, and insight into the financial sector who will take responsibility.
We believe that people with the right skills make the best decisions. Therefore, we delegate as much responsibility as possible to the teams who work with the tasks daily. It is crucial that employees cooperate in their teams, across departments and countries, and together with customers – ensuring 'one BEC'.
We develop agilely, scaled to the entire development organization
At BEC, software development is agile. Our goal is an effective development organization that can handle increased complexity and speed, where we develop usable solutions for our clients faster and more purposefully.
All of BEC's IT developers and the development organization around them work agilely, as do several other parts of the firm.
Our agile teams also consist of representatives from our customers to ensure that we deliver exactly the IT solutions our customers need.
Ongoing feedback and learning
Most tasks at BEC are solved together with colleagues and often also customers.
Therefore, we must have an eye for each other's strengths and use them to create shared success, just as it is essential to contribute knowledge and provide direct and appreciative feedback.
We want a learning culture where we help each other maintain and develop our competencies. The aim is to learn from our experiences and use our knowledge to improve continuously, especially during our daily workweek, but also during development interviews with your manager.
In our development organization, continuous feedback and learning are also deeply integrated into our ways of working, where after each sprint (14-day development period), we retrospectively evaluate our performance and process.
Ordinary conditions and attractive terms of employment
BEC's employees benefit from the financial sector's attractive collective bargain agreements, which, among other things, provide prepaid salaries, overtime remuneration, health insurance, and dental insurance. BEC's management values a solid, trusting collaboration with union representatives and staff associations. BEC's Board of Directors has actively elected to include an employee representative on the board.
BEC also has several schemes and written policies that support BEC as an attractive workplace. For example, regarding the physical and psychological working environment, reduced working hours, flexible employment, work aptitude testing, leave, and much more.
Room for everyone
BEC wishes to attract, retain, and develop the best talents – regardless of gender, age, ethnic background, religion, political observation, sexual orientation, etc. Therefore, we work to ensure career development and promotion opportunities, flexible ways of working, and an inclusive culture that prevents discrimination, bullying, etc.
BEC's canteens in Denmark are known for serving good food (and cake every Friday). Equally important, however, is that our skilled chefs consciously work to make it easy for BEC's employees to choose a healthy lifestyle. The food in BEC's canteens is thus varied and healthy, based on fresh ingredients, vegetables, fish, and a reduction in unhealthy fats and sugar.
BEC offers fitness facilities and massage rooms. BEC also provides subsidies for employees' participation in yoga, cycling classes, running exercises, etc.
Decency in the veins
Decency is a value with a significant place in BEC: We are decent and responsible towards each other, our customers, and the outside world.
For BEC's employees, decency is firstly a promise of a good, flexible, and trusting everyday work life, which builds on our attractive collective bargain agreements. Secondly, it is an expectation of how we take responsibility and work with our customers.
Large parts of the society and the business community depend on BEC delivering well-functioning payment cards, bank accounts, online banking solutions, etc. Our IT solutions also help to prevent money laundering, protect investors, and protect personal data. BEC also operates IT systems for several stakeholders central to Denmark's financial stability, such as the Danish National Bank, the Financial Supervisory Authority, and Finansiel Stabilitet.
Here you can read more about our CSR work and our Code of Conduct.
A strong social life – also after working hours
BEC employees have a long-standing tradition of highly active staff associations with a wealth of leisure activities such as cycling clubs, go-carting, wine clubs, golf clubs, Christmas tree parties, cinema clubs, theatre trips, skiing trips, senior clubs, Young in BEC and much more. Up to 90 percent of BEC's employees have chosen to join one of the staff associations.