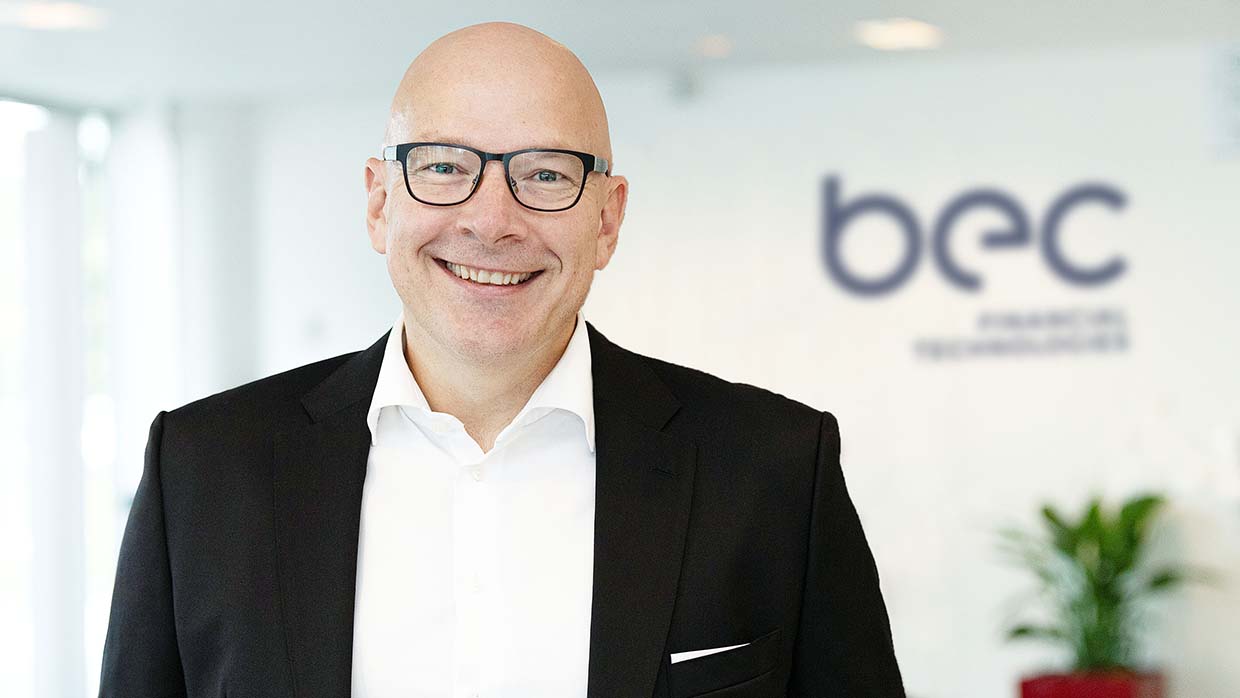 16/03/2021
Major changes to simplify BEC
The Danish fintech company BEC is significantly simplifying its organization and processes. More employees will spend time on customers and deliveries, and fewer people will spend time on coordination and reporting, says CEO Jesper Nielsen.
One of Denmark's largest fintech companies, BEC Financial Technologies, with over 1,300 employees, has revised its strategic direction and is now implementing a comprehensive simplification of the company.
"We need more people who produce more and fewer who plan, coordinate and prioritize. We have to make it much simpler to help our customers," says CEO Jesper Nielsen, who does not change BEC's total number of employees.
Among other things, BEC will reduce nine divisions areas to five, merge its Danish and Polish organizations, merge a number of management and steering roles throughout the company, simplify the forums where BEC and BEC's customers plan development tasks, and strengthen its risk functions, not least regarding cybersecurity.
Major cultural change
BEC is launching the many changes in its governance and organisation, along with a revised strategy that focuses on identifying and meeting customer needs faster and more flexibly.
"What's important is not our organization chart, but how we collaborate with each other and our customers. We provide a complete IT platform for banking with many components that are deeply dependent on each other. Therefore, we must also work flexibly together across all responsibilities, and for each task, we must be able to choose the methods and processes that provide the optimal solution for the customers as efficiently as possible," says Jesper Nielsen.
BEC's culture and customer focus will therefore be the biggest change, he states:
"We are a customer-owned IT community that has extremely close and personal relationships with our customers. That's a big strength, but it's far from enough. We also need to be a faster, more flexible and more service-minded fintech company, constantly committed to providing IT solutions and banking knowledge that help financial institutions win in their markets."
Teams across borders and fewer divisions
BEC's organization with today's nine divisions will be simpler from May 3 with two main divisions responsible, respectively, for transforming IT solutions and optimizing IT solutions for the BEC banks. Three smaller divisions will support them: two administrative divisions and a new architecture division with a focus on BEC building its IT solutions with the right technologies.
"Our nearly 500 colleagues in Warsaw will merge completely with our Danish organization in Roskilde and Herning. If we didn't already know, corona has established that we, as a tech company, can work completely fluently together across borders. We already have many teams with people at different locations, and we have managers in both Poland and Denmark with staff responsibilities across national borders," says Jesper Nielsen.
As of May 3, Lars Malmberg will also be appointed deputy CEO and constitute BEC's executive board together with Jesper Nielsen.
Many functions change
BEC will also merge its traditional line management with the roles that today coordinate BEC's agile IT development.
"For some years, we have consistently followed one school within agile IT development. Because of that, agile methods are second nature to many people in BEC. Now we want to expand the toolbox to include other methodologies if they are better suited for the task. For example, there can be a big difference between coordinating large transformation tasks versus how you work with optimization and safe, stable operations," says Jesper Nielsen.
It also means that BEC dismantles or redefines several agile functions and reduces the number of management layers.
"More people need to work with deliveries to our customers, and fewer people have to work with coordination and reporting. If you can see yourself in that, we offer many new career opportunities in BEC," says Jesper Nielsen.
Simpler, closer collaboration with customers
The fintech company will also simplify how it collaborates with its owners and customers.
"We work extremely closely with the banks to decide which IT solutions to build how. We will have fewer, more effective forums for this in the future . From the banks, we will also need fewer representatives with strong decision mandates to prioritize and coordinate – and more people to work full-time together with our people to develop IT solutions that address their needs better," says Jesper Nielsen.
New risk organization against rising cyber threats
In addition, BEC is launching a strategic initiative to build a new central risk organization to strengthen BEC's second line of defense, which is the internal supervision of IT security and other risks in BEC.
"We see a serious and increasing threat environment, which is an excellent example of the fact that it is crucial that Danish banks cooperate. This is an area where the banks are already investing heavily in our shared cyber defense, and we will now increase the level further by bringing together and strengthening a number of functions in a new, unified risk organization in BEC," says Jesper Nielsen.
In addition, there are many other strategic initiatives, all of which will create a simpler BEC with a greater focus on deliveries to the banks.