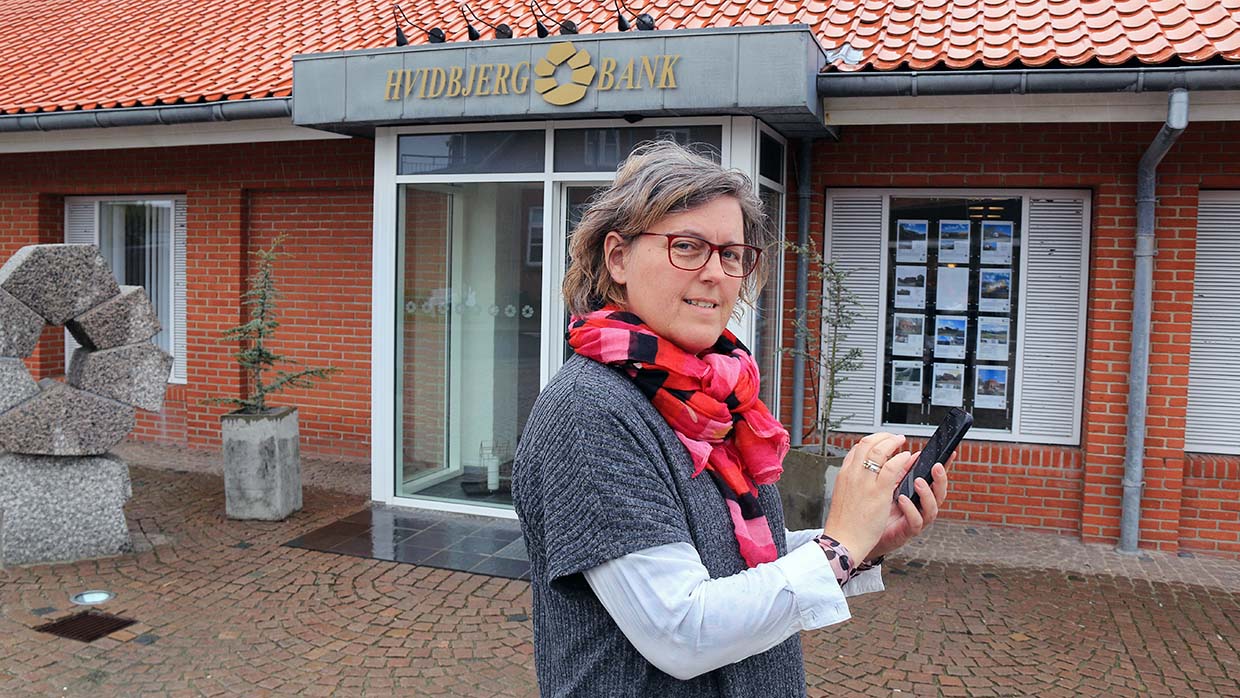 13/05/2021
Hvidbjerg Bank has completed Denmark's first payment with MitID
On Wednesday evening, Lene Vangsgaard Andersen from Hvidbjerg Bank became the first Dane to log in to her online bank and transfer money with Denmark's new digital ID, MitID. All Danes who currently use NemID will soon use MitID instead.
On Wednesday evening, 200 kroner ticked into the bank account of the Spar grocery store in Hvidbjerg as payment for Danish 'flødeboller' treats for Hvidbjerg Bank. The store cannot tell the difference, but this was Denmark's very first money transfer approved with MitID, which will soon replace Denmark's digital ID, NemID.
"As a local bank, we are very close to our customers. This applies when we meet each other in everyday life – but it also very much applies digitally, where we provide our customers with the latest digital solutions. Right now we are testing MitID on behalf of a number of banks in the IT cooperation BEC. After the summer holidays, we expect that our customers will be some of the first to have the opportunity to use Denmark's new digital ID," says service manager Lene Vangsgaard Andersen, Hvidbjerg Bank.
She became the very first Dane to use MitID to approve a transfer in the online bank, when Hvidbjerg Bank and BEC on Wednesday evening for the first time tested the new solution with a real bank transfer.
Everyone with NemID will soon use MitID
MitID will soon be used for everything that the Danes have previously used NemID for. For example, checking their annual tax statement, communicating with authorities or online banking.
Hvidbjerg Bank and BEC Financial Technologies are some of the banks and fintech companies that are currently testing the transition to and daily usage of MitID. Only when MitID has been thoroughly tested, will it be launched for the rest of Denmark.
"When I was set up, it went pretty much as I know it from NemID. I used the new MitID app, where you can transfer money or log in to a digital self-service with a single swipe. An example of a new security feature in MitID is that I get a message, if someone tries to log in to my personal MitID from a new device or with the wrong password," says Lene Vangsgaard Andersen.
"MitID prepares us for the security challenges of the future, and that is one of the main reasons why we need a new digital ID in Denmark," she says.
MitID is first and foremost an app where you can swipe to approve logins, payments, etc. If you are unable to use an app, there will also be alternatives, such as an electronic code viewer or voice reader.
Hvidbjerg Bank collaborates with a number of other banks in the IT cooperation BEC Financial Technologies. BEC has prepared its mobile and online banking for MitID signing together with Signaturgruppen, which is the first so-called broker to be approved to handle login with MitID.