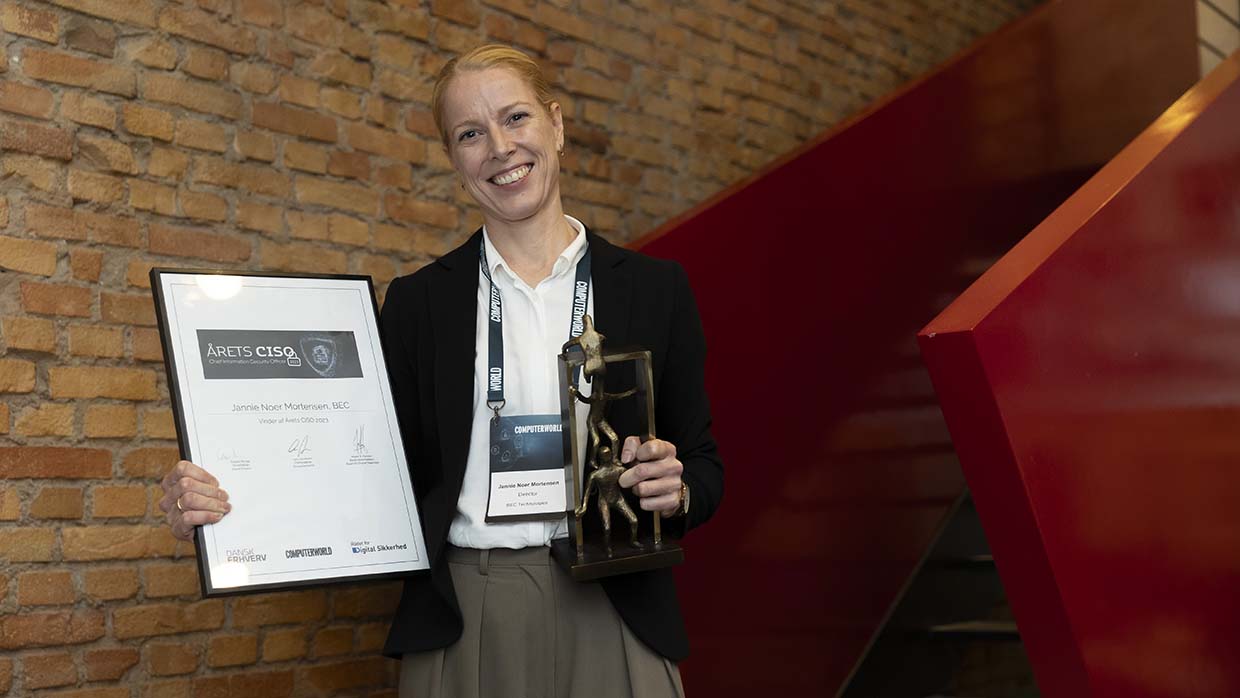 11/10/2023
BEC's Jannie Noer Mortensen named 'CISO of the Year'
The award for 'CISO of the Year 2023' went to Jannie Noer Mortensen, CISO at BEC.
Jannie Noer Mortensen, CISO (chief information security officer) at BEC, has been named 'CISO of the Year 2023'.
"The jury has placed particular emphasis on her clear priorities and work to anchor of a clear ownership of the security culture in BEC's first line of defence – where security must be ingrained in professional pride," said jury chairman and editor-in-chief Lars Jacobsen from Computerworld at the awards ceremony.
Jannie Noer Mortensen was named 'CISO of the Year 2023' on Wednesday evening, October 11, at a conference organized by the three organizations behind the award: Computerworld Denmark, the Danish Chamber of Commerce, and the Danish Council for Digital Security.
Never finished strengthening security and risk management
As the new CISO in BEC, Jannie Noer Mortensen has over the past 10 months been at the head of BEC's highest priority program in 2023, where all aspects of the organization is boosting security and risk management.
She emphasizes that the program is ambitious and necessary – but also emphasizes that it requires hard work for many colleagues in BEC:
"It is a colossal task, which has forced us to start engaging the entire organization while still drafting the plan and draw heavily on many colleagues' patience in a very speedy process," says Jannie Noer Mortensen.
"We can at any point in time be met by new, higher risk and security requirements – or even FSA orders. And that's not even unreasonable in the dire threat landscape we see around us. Therefore, we can never rest in improving our risk and security."
Heading 'Mission Impossible'
Her boss, Christian Pedersen-Bjergaard, emphasizes Jannie Noer Mortensen's cool, friendly approach to the ambitious program that she has been put in charge of:
"This is BEC's very own 'Mission Impossible', which she is leading with knowledge, helpfulness, and an incredible persistence. It is a ungrateful task because we have put her in charge of pushing very hard on many changes at once. Furthermore, even though we have come a long way, we still have a lot of work ahead of us before we have raised ourselves to the level where we need to be," says Christian Pedersen-Bjergaard, CFO and head of Finance & Risk in BEC.
A marathon with a moving finish line
Jannie Noer Mortensen also emphasizes that, despite great progress in 2023, BEC is far from on target with its extensive improvement of safety and risk management:
"My role is a bit like running a marathon. There is a long way to go, and in addition to of that, the finish line is constantly moving further ahead. We are continuously seeing new regulations, new threats, new technology that set new demands and standards," Jannie Noer Mortensen explained recently in this interview with Computerworld (in Danish – subscription required).