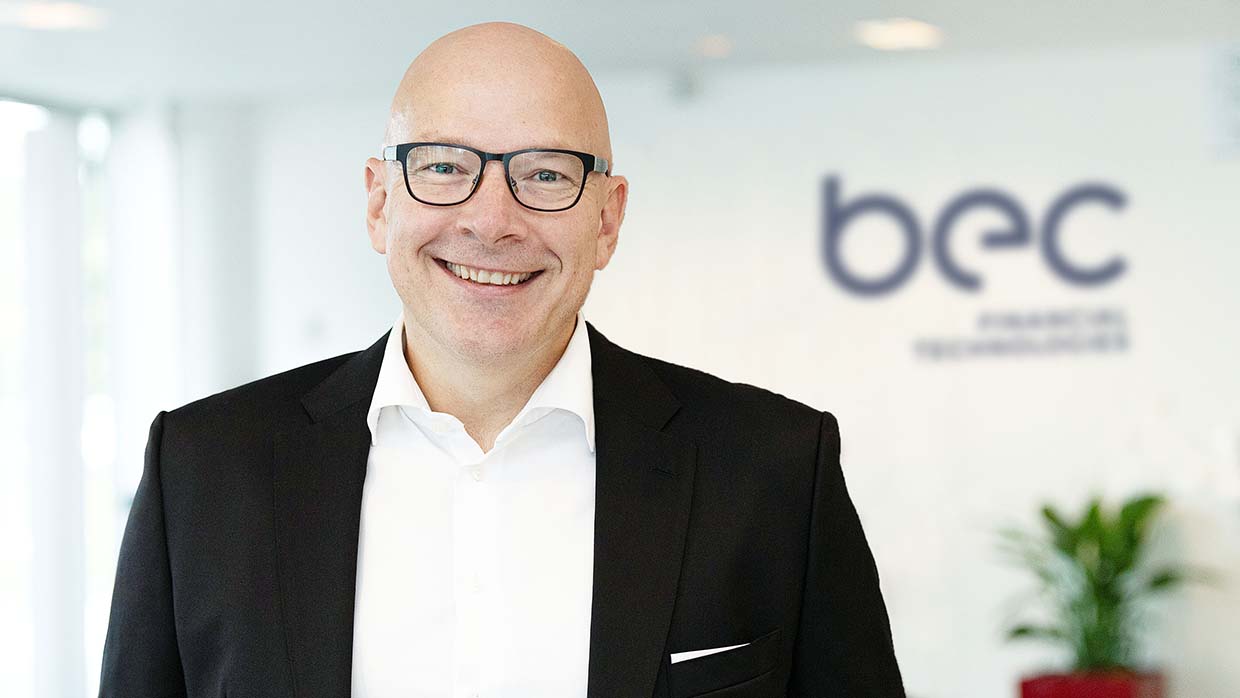 25/04/2023
BEC delivers more development hours at stable costs despite inflation
BEC Financial Technologies became more efficient in 2022 and have absorbed inflation so that BEC's members did not need to pay extra for IT.
In 2022 BEC Financial Technologies cut the tip of its members' IT expenses with a turnover of 2.2 billion DKK . This is 78 million DKK less than in 2021.
"In 2022 BEC became a more efficient business. We have delivered more development hours at a lower cost, and despite high inflation we have kept the IT cost of our owners stable," says CEO Jesper Nielsen.
BEC Financial Technologies is the largest of the three full-service IT providers owned by and delivering IT to Danish banks. Again in 2022 BEC's earnings balanced with expenses, and the result was as expected on 3 million DKK.
"We have delivered on the top priorities that we promised our customers: secure and stable operations, strengthened risk management and solid progress on selected deliveries such as AML, Basel IV and customer engagement management (CEM), new finance platform and the first solutions for sustainable investments," says Jesper Nielsen.
A simpler BEC with focus on partnerships
At the same time, BEC continues working on its long-term technology transformation to create a simpler BEC in a time where Danish banking technology has become more complex.
"We are aiming at a sharply focused BEC with open, flexible technologies where we prefer to buy leading technology from partners instead of developing everything ourselves. BEC must focus on orchestrating a complete technology platform for a standardized, competitive retail bank. In addition, our platform must be open, enabling banks quickly and efficiently to integrate innovative IT solutions from other partners," says Jesper Nielsen.
BEC invests broadly in training
BEC's strategy requires many new competences, while the IT labor market is still characterized by high activity. To attract and retain the best leaders as well as tech and finance specialists, it is crucial for BEC to invest in competence development.
"We are dependent on being able to attract and retain competent employees. Therefore, we invest heavily in competence development," says Jesper Nielsen.
"In 2022 our development organization spent 77,000 hours on training, for example in developing and integrating IT solutions in an open architecture. We also recruited 70 new colleagues from universities to our talent program in Denmark and Poland where we kick-start their work life with a six-month training program. Furthermore, we launched an extensive training program for all BEC leaders, aiming at helping them to become even better at motivating and developing their employees and at delivering even better solutions to our customers," he says.
Handelsbanken has stepped out of the BEC ownership
BEC said goodbye to Handelsbanken after Jyske Bank's acquisition of Handelsbanken in Denmark in 2022. Handelsbanken will be migrated out of BEC during 2023. BEC has some years to handle the financial effect, which BEC expects to be able to absorb through a combination of increasing volume and improved efficiency, so that member banks can expect continued stable IT costs.
BEC cuts its exit fee in half
The annual report was approved at BEC's general annual general meeting today. As announced recently, BEC's general meeting also approved to halve the exit fee that members must pay to switch to another IT provider.
After decades with a lower exit fee, in 2020 BEC raised its members' exit fee to approximately 5 years' turnover with the IT provider, the same level as Bankdata. Recently, the Danish Competition Council approved a commitment that Bankdata will reduce its exit fee to 2½ years' turnover. Hence, BEC has, as the first of the three IT providers in the sector, now again reduced its exit fee to that level.
"We wish a strong competition where our owners and customers are with BEC because we deliver the best IT solutions – not because it is too expensive to switch. That is why we are now following the Danish Competition Council's commitment decision and halving our exit costs," says Jesper Nielsen.
However, he also notes that 2½ years' turnover does not cover the losses in connection with a bank's exit, and BEC will therefore seek to adjust its future long-term commitments.