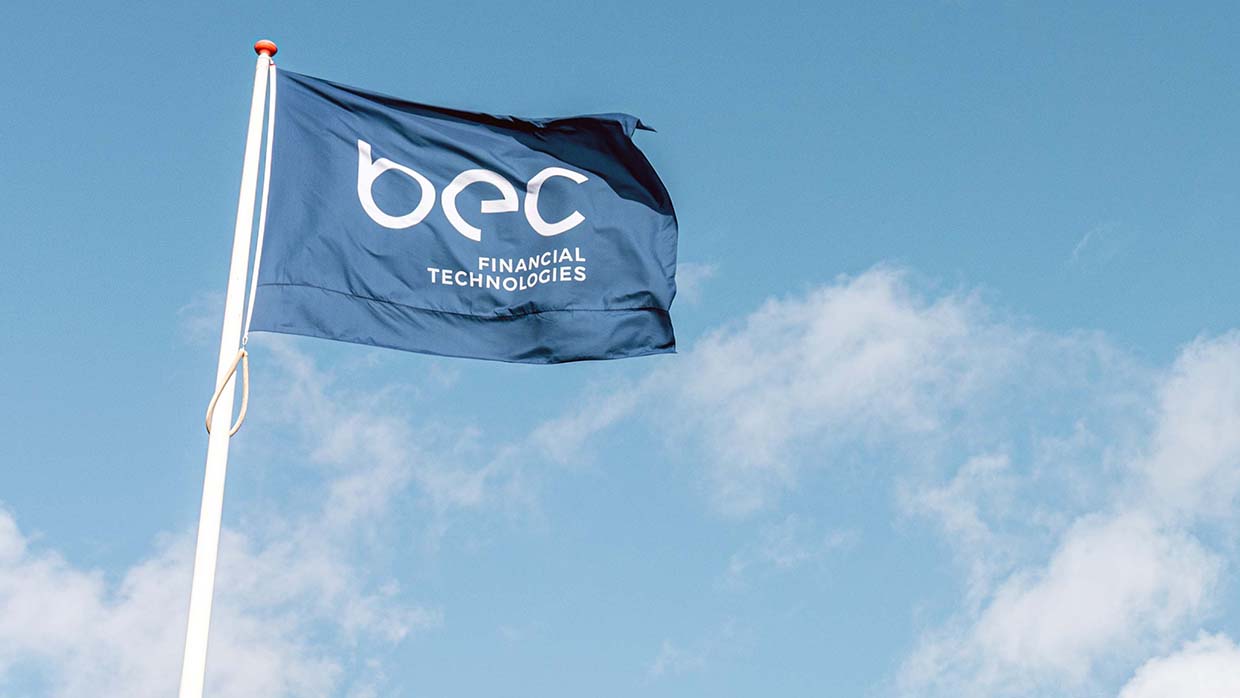 01/12/2020
3 x 25 years in BEC
On December 1st, Henrik Jensen, Mette Sørensen Jensen and Nikolaj Piet Pagh can celebrate their firsts 25 years with BEC.
On the 1st of December three employees celebrate their 25 years anniversaries at BEC.
Henrik Jensen celebrates 25 years in BEC
Henrik Jensen started in BEC as a developer on December 1, 1995. He comes from a family of bankers and is a computer science (AP) graduate, so working at BEC was an opportunity to balance his interest in IT development and banks.
He spent his first years at BEC developing a new system for handling arbitrage and foreign payment service. Henrik Jensen then moved into project management, which led him into a broad range of projects — for example, the total substitution of cash desk solutions in all BEC banks for the year 2000 problem.
Focusing on the end customers' touchpoints
For the last many years, Henrik Jensen's focus has been end customer solutions. Today, Henrik Jensen is development director for eBusiness. His primary focus is the touchpoints that end customers experience when using BEC solutions such as Net- and Mobilbank, instant messages/texts, physical print and enveloping, digital signing, etc.
"The exciting part about this job is that the feedback comes prompt and straight-up from the end customer – this can be everything from a Netbank that doesn't work to a faulty function. The intriguing and challenging part of these solutions is that we are all users and have our own opinion of what good and bad, right and wrong looks like. But it gives a kick every time one of our teams gets it spot-on with time to market, the content and look of the solution," says Henrik Jensen.
eBusiness is currently working on how the future digital solutions version 2.0 shall be, what architecture will support it, and how to realize it in collaboration with our customers and internal collaborators.
Room for growth
Henrik Jensen emphasizes how much BEC has evolved and continues to do so. When he started in BEC, he was placed in front of an OS/2 machine with a black screen ready to interact with. But what stays consistent is that BEC is a place with room for professional growth and a culture where colleagues are always willing to help you. He assigns great colleagues and BEC's culture great significance in his daily life.
Henrik Jensen is married to Carina, and together they have three kids. He spends as many hours as possible of his free time enjoying exercise in the nature on a race bike or in his running shoes.
Mette Sørensen Jensen celebrates 25 years at BEC
Mette Sørensen Jensen graduated in 1987 in computer science (AP) and started her career with three years at KTAS (now TDC). Among other things, she was a COBOL developer on a large inventory management system. After this, she was employed at Berlingske for five years, where she continued to work with COBOL, DB2, MARK IV and MARK V.
On December 1st in 1995, Mette Sørensen Jensen started her career at BEC in the central bank department as a developer and project manager. In 2002 she moved to the Totalkredit department, where she took part in converting the Totalkredit system from DL1 to DB2. She managed several smaller projects and was for a while stationed with VP Securities.
In 2009 Mette Sørensen Jensen started working with Calypso as release manager in the Capital Markets area, where she was a part of implementing Arbejdernes Landsbank as the first bank on Calypso.
For a period, she was transferred to Nordisk Finans IT (NFIT) where she continued to work with BEC Calypso but returned to BEC in 2012. Today, she continues working with BEC Calypso as a release manager in team Platform and in a period of 3,5 years she also had the role of scrum master for the team. Mette Sørensen Jensen describes having been on an amazing journey with BEC, characterized by great colleagues and exiting tasks with high degree of diversity.
In private, Mette Sørensen Jensen is married to Henrik and lives on a small farm in Ringsted. Together they have the children Louise (26), Kasper (23), and Mads (19). Mette Sørensen Jensen spends much of her free time on the farm and with her Icelandic horses. She loves sports, e.g. badminton, swimming and fitness.
Nikolaj Piet Pagh celebrates 25 years in BEC
On the 1st of December 1995, Nikolaj Piet Pagh started as a developer in BEC, with a few years of experience as a database supporter and network administrator and education as a data processing assistant.
During his 25 years at BEC he has worked as a developer in many areas and has for example taken part in developing BEC's Netbank. Today, he works with CCM (customer communications management), which handles system and user generated documents for the banks. He works in Java on the decentral platform MIX and BEC's administration module on the banks' I*Net.
Getting paid to do your hobby
"BEC is a place where you get the opportunity to grow and where you can get paid to do your hobby," says Nikolaj Piet Pagh.
"I have always been a developer – both in private and professionally. In BEC, I have always had opportunities to develop exciting solutions and had the chance to be creative and solution-oriented."
In private, Nikolaj Piet Pagh lives with his girlfriend Kirsten and his youngest son Ricky part-time. He also has two older sons, who have moved out. He spends his free time with his girlfriend or on his passion for game development.