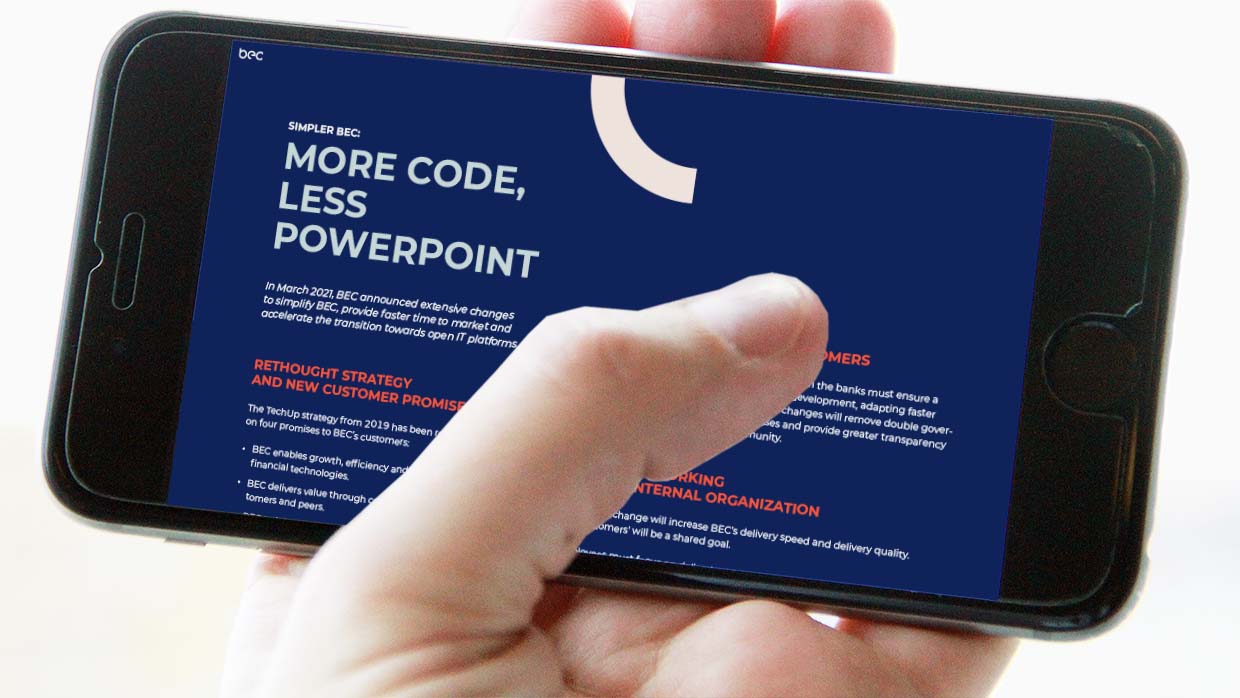 22/04/2021
The BEC banks increased their IT investments again in 2020
One of Denmark's largest fintech companies has grown significantly again in 2020. The banks in the BEC collaboration have increased their IT investments and initiated extensive changes that will lead to faster IT development.
The BEC banks increased their IT investments significantly again in 2020. The revenue in their shared IT community, BEC Financial Technologies, grew in 2020 by DKK 231 million to just over DKK 2 billion.
The annual report 2020 of BEC Financial Technologies was released Thursday. For the first time, BEC has also published an English extract with a comprehensive translation of the management's report, describing the company's activities in 2020 for employees and others who do not speak Danish.
"The banks have accelerated their investments in opening and renewing our technological foundation and have at the same time kept up the steam on large, ambitious development projects in areas such as customer relations, real estate financing, business intelligence, anti-money laundering and much more," says Jesper Nielsen, CEO of BEC Financial Technologies, which services banks such as Nykredit, Spar Nord and Arbejdernes Landsbank.
In addition, there are still rising expenses for security and compliance, increasing activity in the banks and derivative expenses for operating licenses.
BEC Financial Technologies' income statement shows a deficit of DKK 91 million, which is primarily due to BEC advancing investments in modernizing its technologies in 2020.
"We are a cooperative company, where the members are also our primary customers. Their need from us is not the greatest possible profit, but as much IT as possible for the money. In 2020, the members have asked us to invest extra in accelerating the modernization of our technologies, which is the primary reason why our earnings were negative last year," says Jesper Nielsen.
The cooperative has a high equity of 2.1 billion. and is forecasting a positive result in 2021.
More efficient operations and development in BEC
In 2020, BEC Financial Technologies streamlined its IT operations and shaved off two percent of the unit price. At the same time, operating turnover has grown because the BEC banks have gained market share and used their digital solutions more.
BEC Financial Technologies' has also both increased and streamlined its development capacity in 2020. This unit price has been reduced by four percent, as the growth has mainly taken place by hiring additional IT developers in Warsaw. The total number of employees has grown by 19 percent to 1,128 (average number of full-time employees 2020). In addition, there are 276 consulting staff in Warsaw (average 2020), as this is often the most attractive form of employment for IT specialists in Poland.
More code and less PowerPoint
Furthermore, much more efficiency is on the way. In March, BEC Financial Technologies announced extensive changes to significantly simplify BEC's organization and processes.
"Our customers want more code and less PowerPoint. We need more people who produce more and fewer who plan, coordinate and prioritize. It should be much simpler to help our customers," says CEO Jesper Nielsen, who does not cut BEC's total number of employees. In fact, BEC is currently looking for a number of new employees in Denmark and especially Poland.
"We have a strong community of owners who work closely together to invest in technology that supports strong relationships with their customers, user-friendly digital self-service and efficient processes for their employees. This provides a lot of exciting tasks for tech and finance specialists who can build simple IT solutions with complex technology," says Jesper Nielsen.
Partnerships ensure better IT solutions
Jesper Nielsen points to more collaboration and more partnerships as the answer to the banks' steadily increasing need for digitalization and efficiency:
"When we develop new solutions for the banks, BEC has almost completely stopped coding things ourselves. We buy the best solutions we can find – preferably cloud solutions – and focus our energy on adapting and integrating them into our banking platform, so that new and old technologies can play together in an open IT architecture," says Jesper Nielsen.
In the past year, BEC Financial Technologies has, among other things, announced new partnerships with SAS Institute, Microsoft and Aiia (formerly Nordic API Gateway). Furthermore, all BEC members have in 2020 been given access to a new solution for customer relations from the cloud provider Salesforce.
Download management report (English) and full annual report (Danish) here.