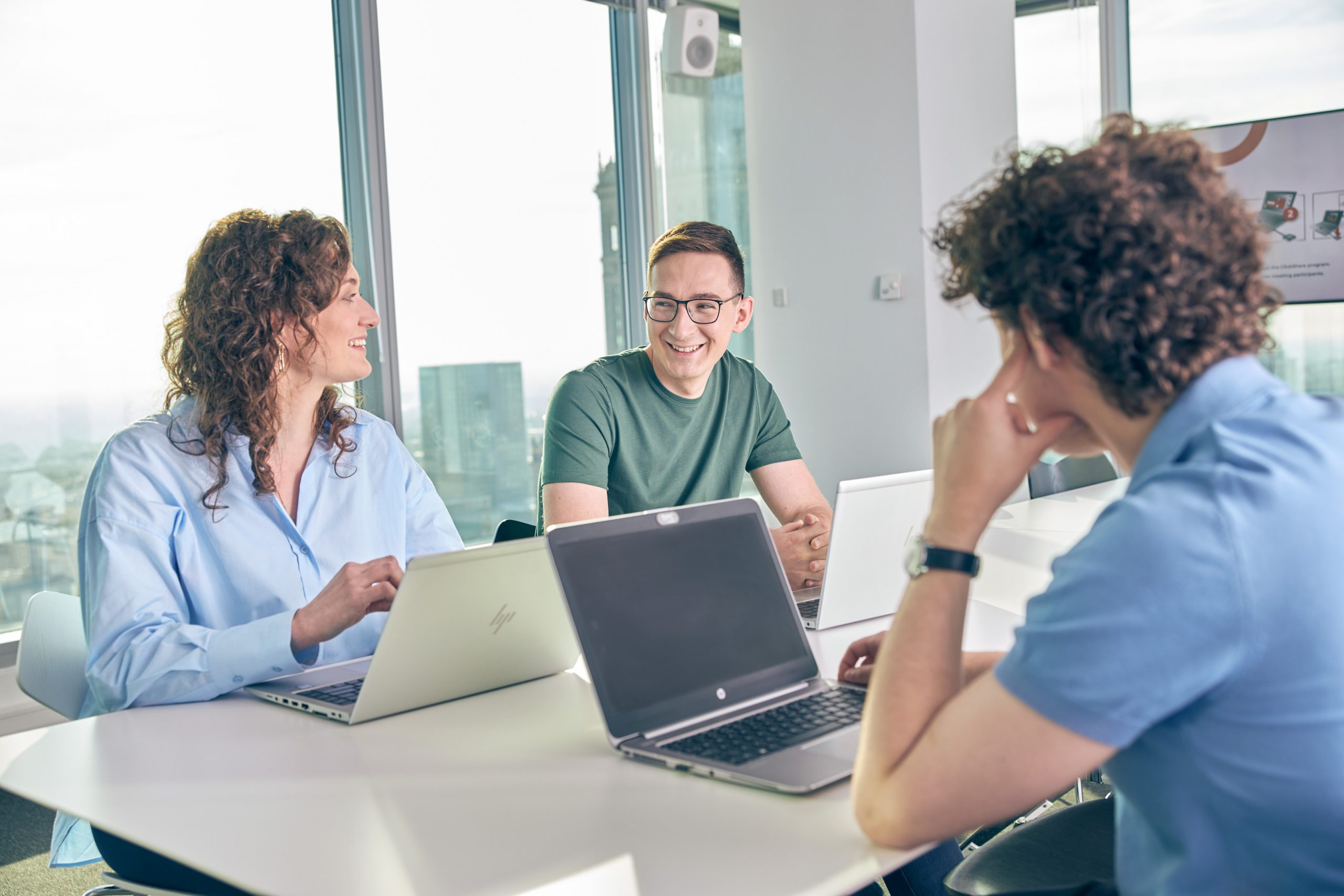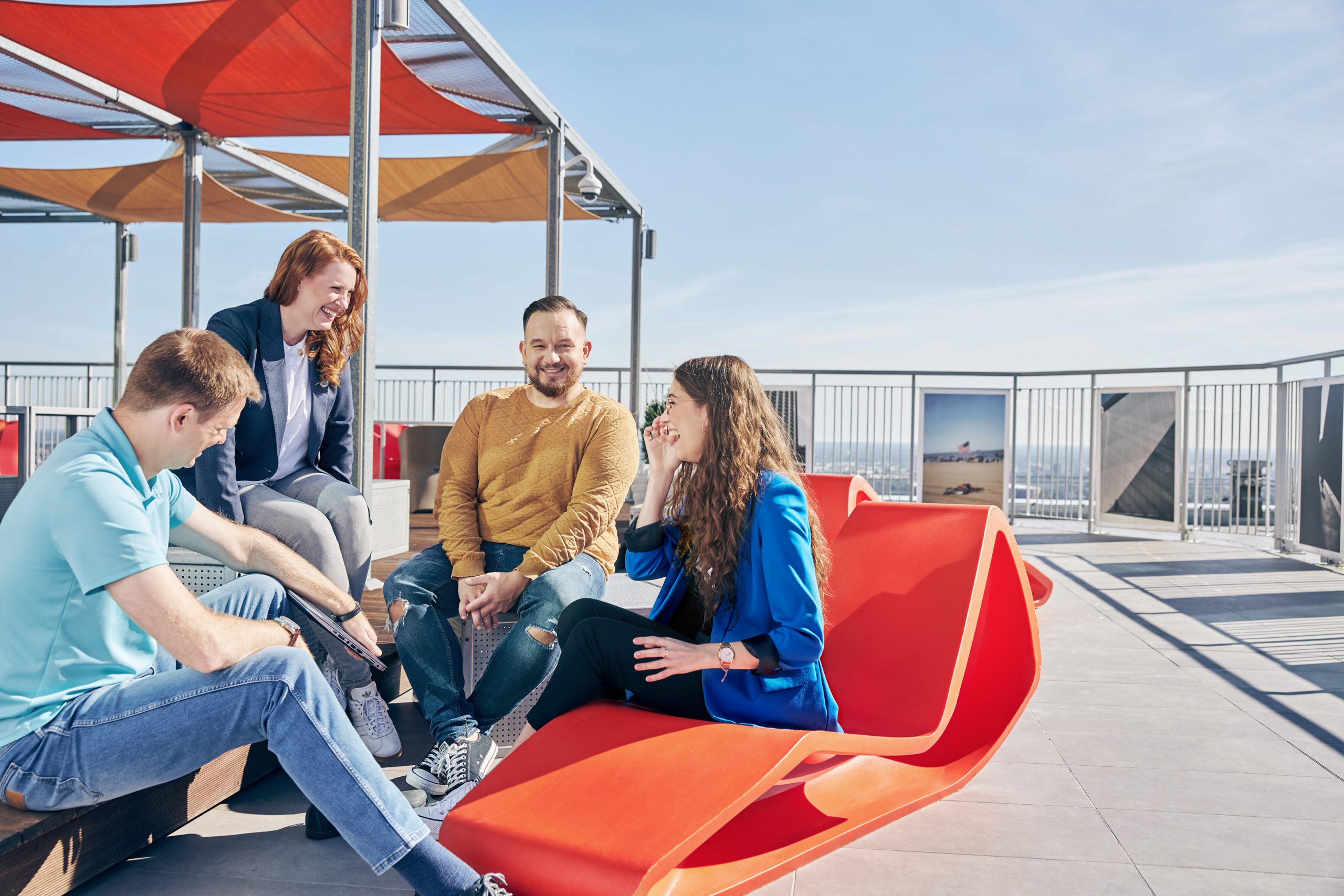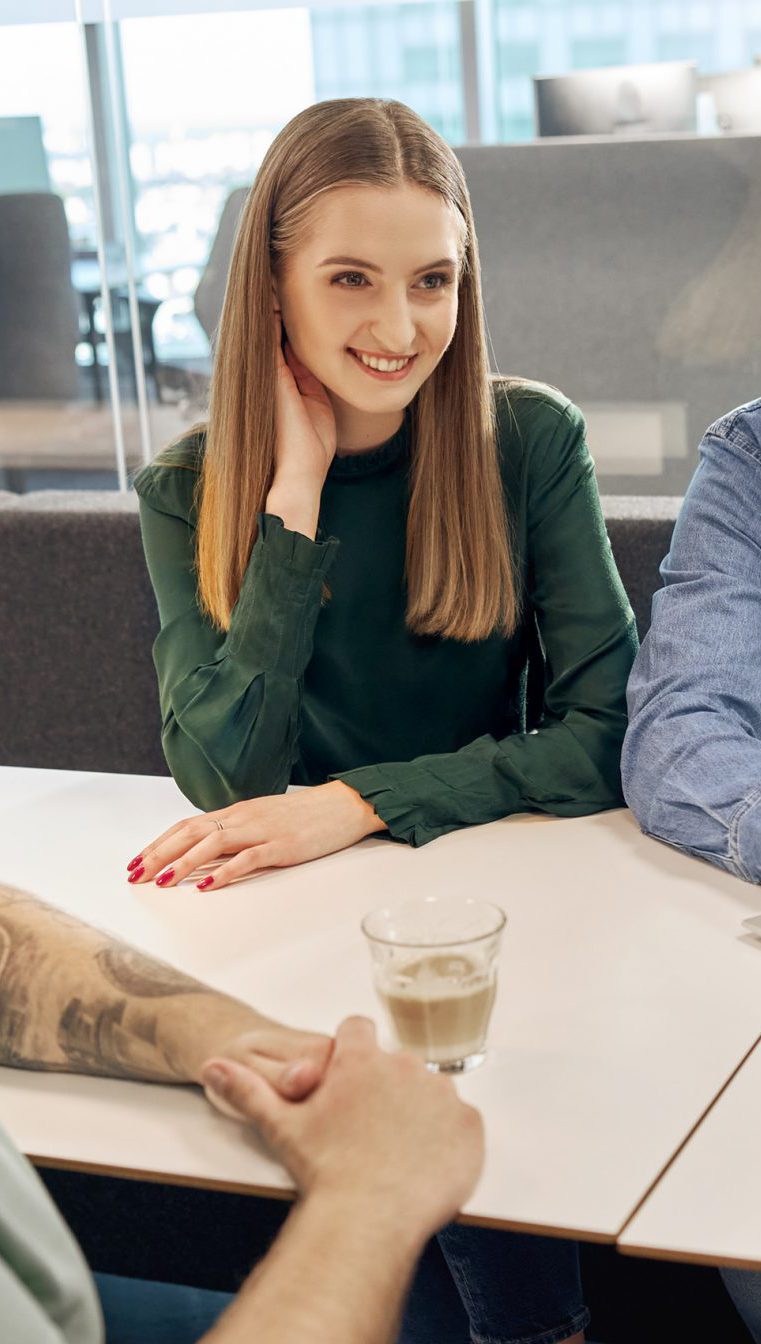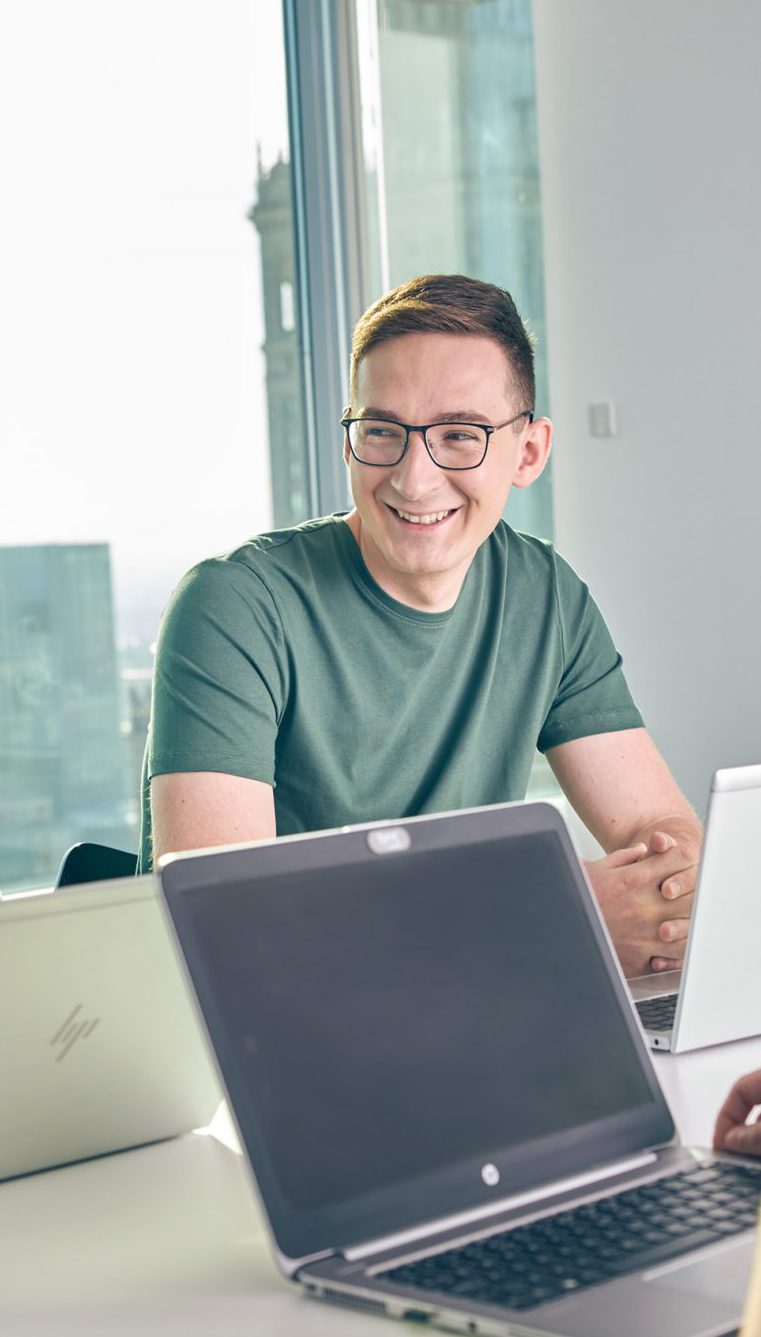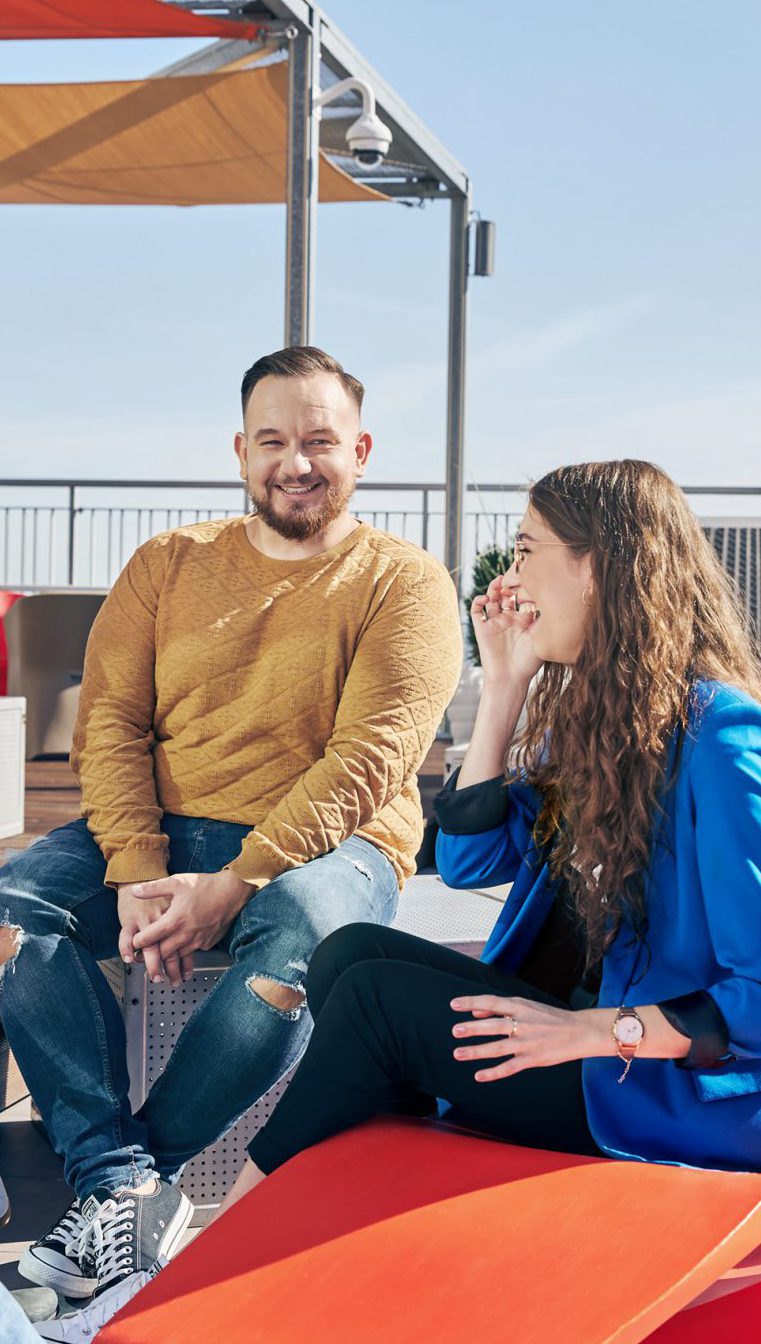 BEC Poland Talent Program
Where fintech meets curiosity
Join our program for IT students & graduates and kick start your career in the fintech industry.
We are a Scandinavian fintech company – our teams work, learn and grow together to create the strongest possible tech solutions for banks, their customers, and the Danish society.
We are looking for ambitious people with a curious mindset who wish to continuously develop new skills and help create IT solutions for the financial sector.
What's best about our Talent Program
Attractive salary from day one – PLN 6000 gross
8 weeks of business, technical and soft skills training
Mentorship, e-learning and support in professional development
Scandinavian culture focused on employee satisfaction
Internal meetups and knowledge sharing
Flexible working hours and ability to continue education while working
Office in convenient location in the city centre
Great workplace – adjustable desk with 2 screens, gym, PlayStation etc.
Permanent software engineer position after the program
We are looking for talents who are:
Looking for an opportunity to become a software engineer
Graduates or students of computer science or other IT related fields
Motivated to join a 1-year program and willing to stay with us afterwards
Fluent in English (both written and spoken)
Quick learners focused on professional development and improving technical knowledge
Available at least 32 hours per week (Monday–Friday)
Onboarding to BEC Poland
Initial 4-5 weeks of technical, business, and soft skill training
Joining an experienced agile teams
Working on real tasks while learning (including unlimited access to an e-learning platform)
Optional rotation within different teams in the domain
Additional 4-5 weeks of training throughout the year
Constant support in personal development – frequent feedback dialogs
International Hackathon
Salary dialog & contract extension
You will be part of an agile team that define, build, test, and deploy a story, feature, or component. You will follow BEC delivery processes and other common processes, policies, tools, and standards. Research, design, prototyping, and other exploration activities will be part of your daily practice. You will be writing and reviewing code and automated acceptance test cases and then executing tests and maintaining cases in a shared repository.
You will be part of an agile team that define, build, test, and deploy a story, feature, or component. You will follow BEC delivery processes and other common processes, policies, tools, and standards. Research, design, prototyping, and other exploration activities will be part of your daily practice. You will work on developing and maintaining BI solutions and ensuring appropriate storage, update, and data delivery in the DataWarehouse.
As a Business Analyst, you will link the IT solutions with our bank customers' needs. You will be introduced to the IT landscape of BEC and the financial sector and have workshops focused on technologies, business needs, security, compliance, and agile ways of working. During the one-year program, you will communicate and translate between customer needs and IT developers, delivering the IT solutions. For example, you might be meeting with bank customers, listening to their needs, adjusting expectations, and then securing deliveries of visible changes to an online-banking system through collaboration with a development team.
You will be part of a specialized team in the first line of defense from hackers, vulnerabilities and bugs that might affect continuity of services of all parts and areas in BEC infrastructure. The service delivery process is tightly controlled and focused on high availability, your role will be connected to either one or many industry standard applications. You will be closely collaborating with the best specialists in your area and working with wide variety of software and hardware. You will learn enterprise class practices and processes in operational tasks.
Upload your CV.
We want to get to know you!
Let's have a screening call
to make sure your competencies meet our requirements.
Meet our talent manager and technical expert to get to know BEC Poland and tell us about your skills and interests.
Participate in online assessment day take part in individual and group assignments. You will have a chance to meet the managers too!
Time to sign the contract.
See you during on your first day of work!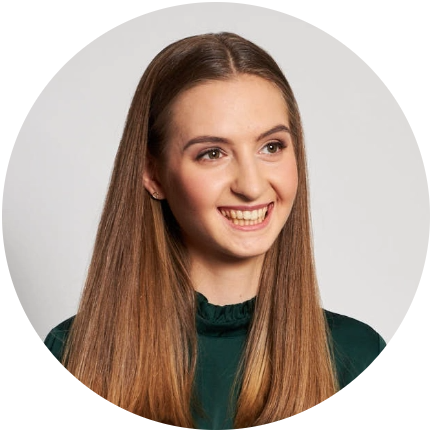 Talent Program enabled me to smoothly start my professional career in the fintech & IT industry. Mentors and colleagues were very supportive and eager to share their knowledge.
Natalia – Polish-Japanese Academy of Information Technology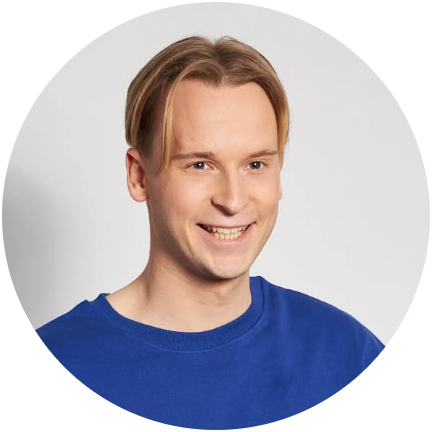 Scandinavian working culture and flexibility offered by BEC Poland allow me to develop my career while studying simultaneously.
Szymon – Polish-Japanese Academy of Information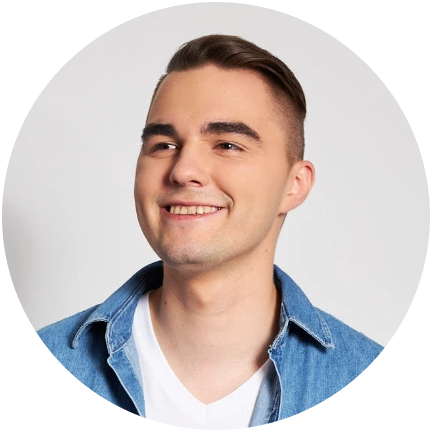 BEC Poland offers a knowledge-sharing culture, where one can quickly become a specialist and join complex projects in the fintech industry.
Bartosz – Warsaw University of Technology
Schedule a 10-minute video meeting
with Talent Program participants
BEC through the eyes of our talents
When can I start working and when should I apply for the Talent Programs of 2022?
In 2022 we are going to launch 2 talent camps in Warsaw with different profiles/ career opportunities.
The 1st camp has already started in February 1st.
The 2nd camp starts August 1st – the recruitment process will begin in March and we are waiting for your application till the end of March.
Follow us on LinkedIn and Facebook to know when the recruitment campaign begins. Do not wait until the deadline to apply, as we contact candidates during the whole campaign; we do not wait for the deadline to contact you.
What is the career path/ learning opportunities in BEC Poland?
To support your personal growth and competency development, we implemented the most effective mix of development activities:
learning through experience (50-70%) – take on challenging tasks, engage in new projects or higher level tasks, participate in innovation sessions etc.
learning from others (15-30%) – seek and give feedback, join one of our CoPs, collaboration and continuous improvement in your team, share knowledge, engage your mentor
traditional learning (5-20%) – attend a virtual and class room training, take a webinar or and e-learning course (we offer you unlimited access to an e-learning platform with 3500+ courses from different areas)
Moreover, you will take part in BEC Path dialog with your manager. BEC Path aims at improving employee performance, retaining talented employees, having competent employees and managers who give guidance, demand commitment, grow people and teams AND follow up and give feedback on performance.
With BEC Path we have:
a very good way of supporting employee development and performance in BEC across Poland & Denmark
a yearly, mandatory process for all employees and managers in BEC
the set-up to define expectations and objectives for all employees and managers and thereby setting clear and inspiring directions for their work
opportunity to talk about employee's aspirations, goals for the future and actions that need to be taken to ensure full potential growth
How many working hours and how much flexibility should I expect?
Winter Camp starting in February – trainings are conducted Monday-Friday from 8.00 or 9:00 until 14:30 or 15:30 (6,5 hour/ day)* – to be confirmed with the group and trainers (you can skip part of a training if you have an exam at university at the same time)
Summer Camp starting in August – trainings are conducted Monday-Friday from 8.00 or 9:00 until 16:00 or 17:00 (8 hour/ day)* – to be confirmed with the group and trainers *the amount of hours/day is different but the training program remains the same
In BEC Poland, we have core business hours between 9:00-15:00 meaning that you can start work between 7:00 – 09:00 AM. You can choose whether you would like to work full time (40h/ week) or part time (32h/ week). We try to provide some flexibility for those of you who still study.
How can I prepare myself for an interview?
During the recruitment process we do our best to get to know you better both from a technical and from a personality perspective. We want to make sure we hire top talented students and graduates with a high potential to grow, who share our most important values and who want to be part of our culture.
On the 1st interview we might ask you some technical questions from an area of software development (Java, SQL, etc.). Apart from the technical skills and your knowledge from university/ previous experience, we pay a lot of attention to your personality and soft skills – communication, teamwork, proactiveness etc.
Please do remember that the recruitment process is run in English 🙂
Can I work part time?
If you are a student, you can choose to work full time (40h/ week) or part time (32h/ week). In case of a part time work, please be aware that we expect you to work within a regular working hours on weekdays ( Monday-Friday). You can choose whether you want to work 8 hours/ 4 days a week or 6.5 hour/ 5 days a week.
You can agree with your team and manager on some flexibility so you can combine work and school.
Is English/Polish required?
As we are an international (Scandinavian) company, we do expect you to be fluent in English (written and spoken) – min B2 level. We use English on a daily basis, including in the recruitment process. We do expect you to speak Polish but it is always nice to have.
Do you accept second-year students?
Yes, however, before applying, please make sure you are available 32h/ week (see questions above). Most of our juniors from the talent program are from the 3rd year of university or above due to just few classes at the university.
Is this a paid internship?
Yes 🙂 you are going to be hired on permanent employment (umowa o prace) with an attractive salary from day 1. After completing the 1-year talent program, you can expect a salary increase and contract extension.
Follow us on our social media
BEC Financial Technologies a.m.b.a. – Warsaw Financial Center, Emilii Plater 53, 00-113 Warszawa – NIP/VAT PL1070040790 – bec@bec.dk